The unexpected events of 2020 have brought the need for efficient remote working right to the forefront of most businesses' infrastructure requirements.
Whilst we have been encouraging companies to migrate to Microsoft 365 for some time, recent developments have forced the issue, making real the value it adds.
Today we are sharing, with their permission, a case study of a charitable organisation, whose employees all needed to switch to remote working overnight. We'll take a look at their existing systems, what challenges they presented, why we agreed a migration to MS 365 was the answer and how they are getting on with it since the shift.
Countryside Restoration Trust (CRT) Microsoft 365 Migration Case Study
Existing Setup
The Countryside Restoration Trust (CRT) have been a client of ITSP for some time. Largely based in a single office, they had a private cloud server set up and VPN for remote workers.
Prior to March 2020, CRT were working with two Private-Cloud Servers; a local Windows Active Directory Server and a Windows File/Terminal Server, securely hosted in a Private Cloud at our Data Centre. A permanent site-to-site VPN (Direct Tunnel) ran between their main office and the Data Centre.
To access their profiles and data on the server, office-based users only needed to run a remote desktop program. Remote users needed to connect establishing a VPN first, then running Remote Desktop to log-in to their windows profile on the Terminal Server.
The infrastructure was implemented in this way to provide a secure approach. It favoured use of resources on the server over individual workstations and ensured consistent shared access to the most recent data.
This method was industry gold standard, but some remote users found the connection process complex, often forgetting appropriate passwords for each system. They were struggling to consistently access and keep their data organised. This resulted in users sharing documents via email instead of using the shared, version and access-controlled resources.
During the March 2020 lockdown, all users switched to remote working, which compounded the issue. In adjusting to the remote set-up, users were finding it difficult to work/collaborate. Some users were starting to independently use other MS 365 Apps like MS TEAMS without any management/support or security considerations.
In addition, the broadband connection between the countryside-based head office and the Data Centre, was somewhat unreliable. It was found not to be robust enough to consistently support the Direct Tunnel VPN and users often found the connection very slow, especially in the afternoons.
The Solution – MS 365
Given these challenges, and the immediacy caused by the essential increase in remote working, it was proposed that the most efficient solution would be to implement a complete Migration to Microsoft 365 (MS 365) and to decommission the Private-Cloud servers.
This would shift the remote server into the MS Cloud. Data would be shared using various access-controlled SharePoint libraries and TEAMs would enable users to collaborate centrally without effort.
It also allowed users to connect via any internet connection or device, without the need for the additional VPN.
With security considerations in place, this removed the need for multiple log ins, employing the single sign on option facility.
Initial discussions in surrounding the scope of the project began in April of 2020, the migration project began in May 2020 and was completed by early June 2020.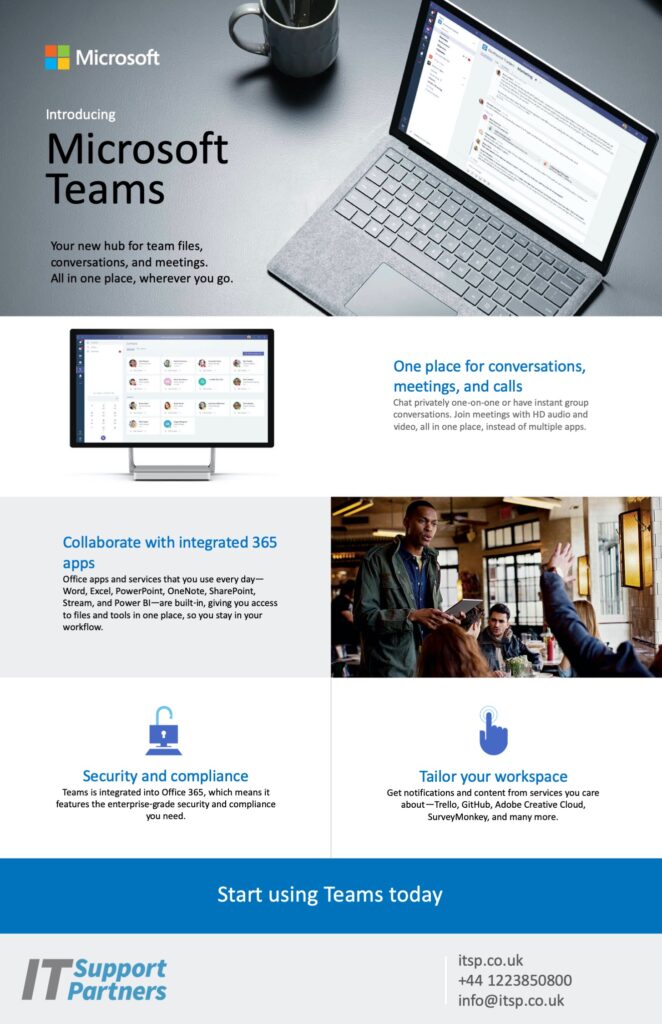 The Migration Process
The process was carried out with minimal interruption to normal business. Staff were still able to work on their active data during migration.
Users were kept informed throughout and given instructions on housekeeping to ensure their data was organised and in order prior to the migration. This allowed user's accounts to be seamlessly mapped to One Drive.
Working with CRT management, ITSP created a clear map of the data to be transferred. A strategic file structure was agreed and set up for the new destination.
Access levels for users were reviewed and allocated so that a series of Document Libraries could be set up with appropriate permissions. This ensured that the right users had appropriate access to the required data.
All the data was securely backed-up and virus scanned prior to the migration.
User subscriptions were reviewed and updated where needed. As a charitable trust, CRT was entitled to a number of free MS subscriptions.
User's workstations were reconfigured and updated with the latest versions of MS 365. Printers / scanners were also reconfigured to work with the new system.
During a hyper-care period, we helped users to familiarise themselves with the new systems and new ways of working.
Once the migration was complete, the old servers were securely decommissioned.
What did the new platform look like?
MS 365 Cloud exchange (essentially the same as the original email exchange server)
MS OneDrive for Business – this represents the cloud storage location for users to save their own work, and share it with others if needed. It replaces what was once the local Documents folder or 'C' drive. This folder is continuously synched with OneDrive for Business in the cloud, so should always contain the most up-to-date version of documents.
MS SharePoint / MS Teams – in terms of user experience, this replaces the functionality of the old terminal server. It is the location for the majority of the organisation's data. It allows users' controlled access to relevant data. With MS TEAMS, CRT can share, collaborate, make phone/video calls. It's also possible to send/receive files directly from inside MS TEAMS and much more. Microsoft is improving and updating the functionality on MS TEAMS all the time.
MS Azure Active Directory and Intune (now Endpoint Manager) – this replaces the terminal server from a functional perspective. Security and device management is conducted via MS Azure Active Directory and managed by Endpoint Manager (part of the MS 365 Premium subscription). Azure allows the Single Sign-On users find so useful. This is what allows access to Office 365 services, such as Microsoft OneDrive for Business, Microsoft TEAMS, Exchange Online and SharePoint Online.
Back-up – a cloud-to-cloud back-up system has been implemented ensuring that all the necessary data on one drive SharePoint and Teams is securely backed up.
What do the users think?
Since the migration to 365, users have been more seamlessly accessing and working on their data from the cloud. The issues with saving data locally, resulting in multiple copies and no version control, have been eliminated.
Users are using Sharepoint and TEAMS to work together more easily, creating a more efficient and smooth running working environment.
Sound good?
Talk to us about how migrating to MS 365 can help your business